Presenting The Most _______ Procurement System Available

Efficient
Robust
Awesome
All of the above
The answer of course, is 4). The Sourcium Group provides clients access to a state-of-the-art procurement system widely regarded as the finest system in the IT industry. Here's why: One Connection - The Sourcium Group connects you directly to the inventory of the world's largest manufacturers and the most sophisticated wholesale distributors, thereby making available the entire IT product supply chain from both the Direct and Indirect channels.
Price Benchmarking - By displaying the comparative prices and current inventories of multiple IT distributors and manufacturers, we create a unique price-competitive online marketplace.
Bid Price Monitoring - Our real time service includes the ability to easily compare your specific Manufacturer Special Bid pricing to the daily market price on every purchase, everyday.
Supply Chain Access - Select from 250,000 + products from over 1,500 manufacturers.
Scalability Means Lower Overhead
The Sourcium Group uses MoreDirect's proprietary technology, TRAXX ®, and conducts over 99% of our transactions with suppliers electronically. As a result, we not only reduce our administration overhead, but yours as well.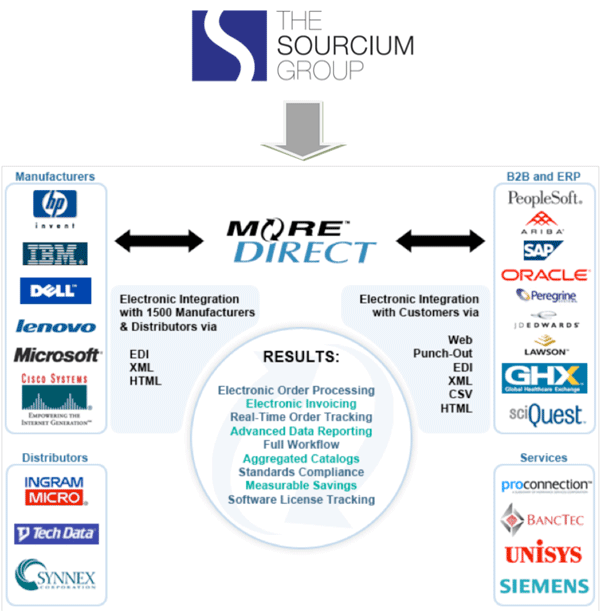 Now Featuring: Features
Let's start with some numbers, for you numbers freaks:
Over 95% of our orders ship the same day
We offer access to over $3 Billion in available inventory (no, not a typo)
Real-time pricing and availability for over 250, 000 SKU's
Real-time order tracking and live punch-out to carriers for shipping status
Online access to invoices with serial numbers and asset tag information
Administrative rights to manage your users and groups
Access to create and manage orders, quotes, standards
Storage of all your company ship to's with easy selection upon order entry
Software Licenses Tracking electronically
We're Happy To Report: Robust Reporting
Cost Center Reports
Department Reports
Order History Reports
Serial Number Reports
A/R Aging
Spend Analysis by Product Category
Manufacturer Name or Part Number Volume / History